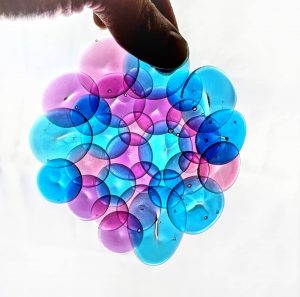 Come make colorful sun catchers with Project Joy's colorful glass-like material again this year!
You will get to experience the wonder of working with a material that shares many of the aesthetics of glass without all the years of training glass requires.
Gift your sun catcher or stick it on a window where the sun will shine through and illuminate all the beautiful colors!
See a time lapse video of the making of a sculpture here: https://youtu.be/jd7Z-_MHFaI
Also, come check out Project Joy's new 'Cup of Joy' art making kits, and make meaningful art to fill your blank walls with JOY!
Cost: $10 per Sun Catcher

Join Black Hound Clay Studio in making your own custom pin back buttons! Use markers and pens to create a unique design or message which will then be made into a pin back button you can wear home.
Cost: $1 per button.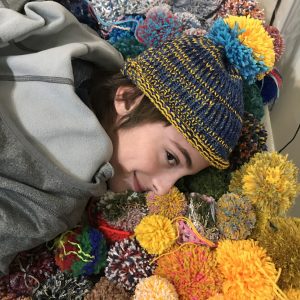 Janell Wysock Textiles: Join in and make Pom Poms with us in a variety of colors and sizes to take along and use on a favorite hat, bag or how ever you imagine.
Cost is $2 per person.