Visit our crafting stations to make something to give or keep!
Black Hound Clay Studio 


Black Hound Clay Studio will host a mosaic coaster workshop. Using tiny colorful ceramic and glass tiles, you can create a bespoke drink coaster to decorate your home. Cost is $5 per coaster.
Project Joy by Jessica Joy London Studios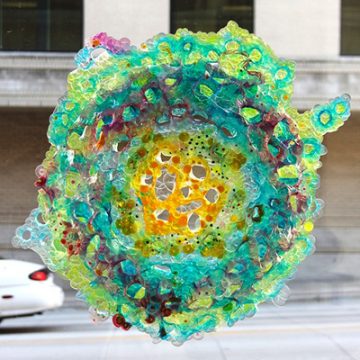 Be the first to try Philadelphia-based artist Jessica Joy London's "glass" knitting technique.
It is a meditative tactile process Jessica invented that involves piecing together colorful translucent discs made of a glass-like material. You will get to experience the wonder of working with a material that shares many of the aesthetics of glass without all the years of training glass requires. You will be able to make a colorful sun catcher you can gift or hang in a place that will surely brighten your day whenever you look at it. See a time lapse video of the making of a sculpture
here
$10 per sun catcher.
Jessica teaches workshops and private events out of her inspiring studio at the 1241 Carpenter Art Complex.
Little Chair Printing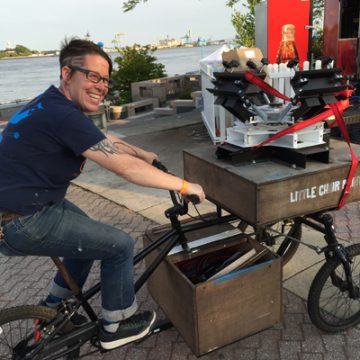 Little Chair printing will be live screen printing t-shirts with their mobile bicycle screen printing shop.  Come pick out a t-shirt and design for $20 and learn how to make your own t-shirt. Little Chair Printing will be offering a 50% discount print for everyone who brings their own t-shirt. Let's upcycle our old t-shirts and make them new.
Thank you to our Sponsor!